Save up to 10% — Stressgard® Spring Savings Program
Get better turf protection at a lower price with Bayer's Stressgard® fungicide products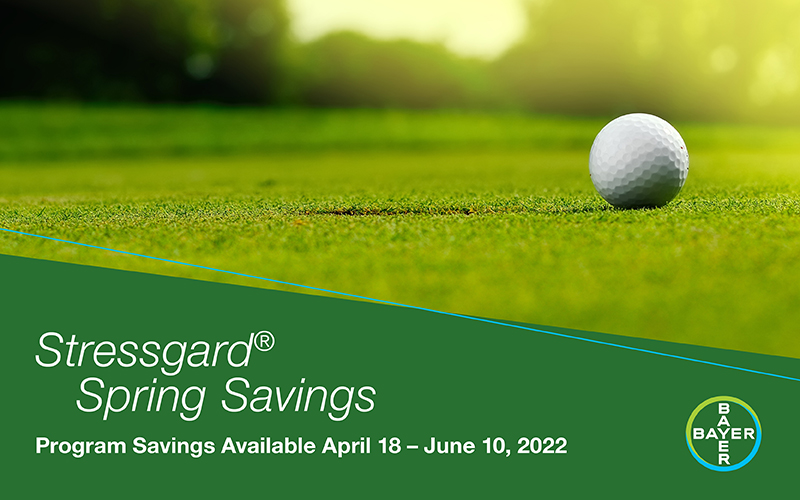 Simplify your turf protection program in 2022 with the knowledge you have the products you need when you need them. Early season purchases of Bayer's Exteris™ Stressgard®, Mirage™ Stressgard® and Dedicate™ Stressgard® offer you worry free turf spring, summer and fall and all at great price!
Whether it's avoiding early season microdochium patch or providing dollar spot control on your fairways throughout the season, or prepping your golf course for winter with Dedicate™ Stressgard® these products offer it all.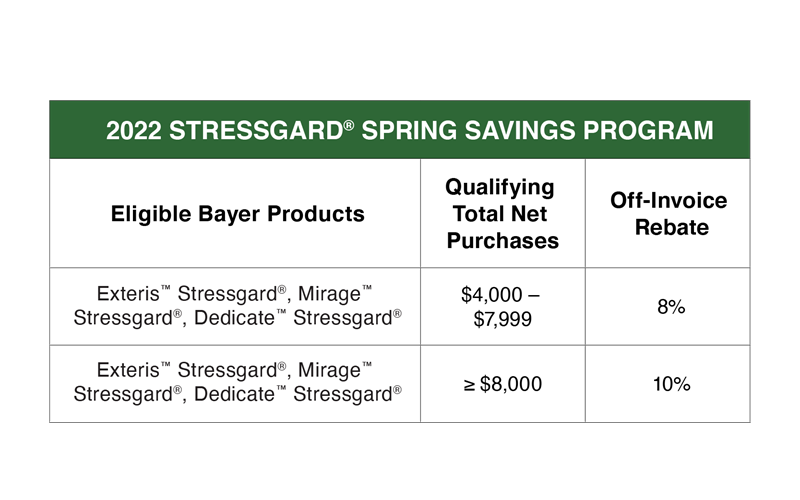 PROGRAM CONDITIONS:
Bayer approved Agents must supply Bayer with hard copy invoices of Eligible Product purchases made by golf courses and sod farms by the dates as indicated below to be eligible for reimbursement under this Program.
To be eligible, Eligible Participants in the Program must purchase Eligible Products, namely: Bayer's Exteris Stressgard, Mirage Stressgard and Dedicate Stressgard from approved Agents appointed by Bayer during the Promotional Period.
All sales are final. No returns shall be accepted for purchases of Eligible Products during this Program.
Each purchase of Eligible Product(s) will conclusively determine the Program rebate available for that purchase. Eligible Products purchased at various or different intervals during the Promotional Period may not be combined in any manner whatsoever for the purposes of seeking higher rebates or other benefits available under the Program.
Promotional period:
April 18 – June 10, 2022
Eligible products:
Bayer's Exteris™ Stressgard® (2x10L), Mirage™ Stressgard® (2x5L), Dedicate™ Stressgard® (2x5L).
The Program is subject to product availability.
Bayer's interpretation of the Program is final.
Questions? Contact Us
For specific answers on how to use Exteris Stressgard, Mirage Stressgard or Dedicate Stressgard in your turf management program, please contact us.
Exteris Stressgard product page.
Mirage Stressgard product page.
Dedicate Stressgard product page.
ALWAYS READ AND FOLLOW PESTICIDE LABEL DIRECTIONS.
Dedicate
®
, Exteris
®
, Mirage
®
and Stressgard
®
are registered trademarks of Bayer Group. Used under license. Bayer CropScience Inc. is a member of CropLife Canada. ©2022 Bayer Group. All rights reserved.