Five environmental factors you need to know about late-season dollar spot
When it comes to problem diseases on the golf course, dollar spot is easily one of the most important ones to treat. Late-season dollar spot is common, and unfortunately can be epidemic.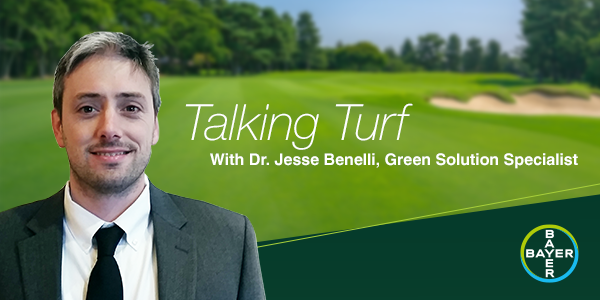 "Most courses manage dollar spot with preventative programs starting as early as June," says Jesse Benelli, Green Solution Specialist with Bayer Environmental Science. "The problem is environmental factors can contribute to the disease, extending its presence into September and early fall. When this happens, we call it late-season dollar spot and it can become an epidemic on the course."


// The facts
Benelli shares his top five facts about late-season dollar spot, highlighting the environmental factors that contribute to epidemic outbreaks.

1. Longer nights

Nighttime environments are favourable to turfgrass pathogens as the relative humidity rises and winds begin to calm. And by mid-September, the shorter days and longer nights give at least an additional three hours of this ideal nighttime environment (when compared to June) for pathogens to spread.

When it comes to dollar spot, this environment is more conducive for the pathogen than its host. The host relies on light, and the reduction of light in the fall limits the plants growth potential. A reduction in growth potential limits the plant's ability to grow out of infection – this may explain why golf courses see greater dollar spot 'pitting' in the fall compared to summer months.

2. Lower sun angle

Sun angles dramatically influence shade patterns on golf courses, and as we move into the fall months, trees and other structures on the course cast longer and wider shade patterns. This increased shade creates a favourable environment for dollar spot as morning dew lingers longer in these reduced light conditions. The increased period of leaf moisture is perfect for continued dollar spot development.

Another consequence of the lower sun angle is lower transmission of ultraviolet (UV) light. Research by Dr. Horvath at the University of Tennessee suggests that UV light may regulate the growth of the dollar spot pathogen. [need link to research]

3. Air temperature

Here in Ontario, the Great Lakes moderate our air temperatures. In the spring, these large bodies of water can cool nearby surrounding air temperatures. But in the fall, the Great Lakes can act as heat sinks.

This moderation in air temperatures can influence dollar spot development in the fall months – especially for golf courses near one of the Great Lakes, extending dollar spot activity much later in the season.

4. Less traffic

A reduction in traffic on playing surfaces, including employees, carts and fewer daily golf rounds played, drops off for many golf courses in late summer and early fall. This may influence late-season dollar spot development. Mowing frequency and rolling programs are also known to influence dollar spot severity, and a reduction in the frequency of these practices could lead to late-season dollar spot development.

5. Adaptive solutions

So what's the solution to controlling late-season dollar spot? Cultural practices to address environmental factors like removing dew by mowing, poling or rolling and increasing air circulation where possible can be continued into the fall months.

Fungicides are also a key part of a dollar spot management program. Exteris™ Stressgard® [insert link to product page] has proven to be a premium solution for late-season dollar spot management. Offering two modes of action formulated with Stressgard Technology, this product offers an innovative fungicide solution. Exteris Stressgard is equipped with specialty adjuvants to promote coverage on the leaf surface, all while mitigating morning dew in the days after application.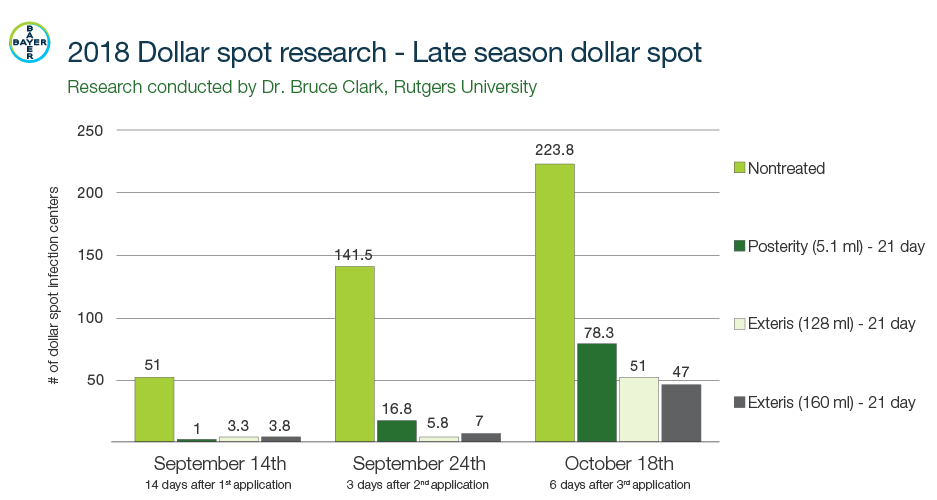 Exteris Stressgard has performed exceptionally well in independent trials. This product has been evaluated for dollar spot control in the spring, summer and fall months. Research conducted by Dr. Bruce Clarke at Rutgers has shown Exteris Stressgard to be a solution for late-season dollar spot management.