New Product from a Trusted Brand — Introducing Roundup WeatherPRO®
Roundup WeatherPRO offers the proven performance you have come to trust from the Roundup family of products. Specifically developed for the vegetation management industry, Roundup WeatherPRO controls a broad range of weed species and wood.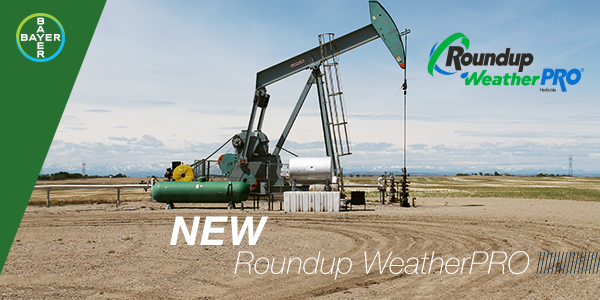 • Reliable, proven vegetation control – railways, oil and gas sites, rights-of-way, roadsides and more
• Wide range of application rates to manage various species – annual grass and broadleaf weeds, perennials, brush, trees and roadside vegetation
• A 30 minute rainfast guarantee
• Backed by technical and industry support to provide the tools you need to be successful
• Glyphosate (540 g acid equivalent/L) with enhanced efficiency for up to 33% less handling than most competitors
• Approved for aerial application, where permitted.
Roundup WeatherPRO from Bayer. A new product made for you
For more information, visit Roundup WeatherPRO or contact your Bayer Territory Sales Manager.
Where to purchase, visit Where to Buy