10 Tips for More Effective Perimeter Control
Pest control is usually broken down into two main categories of indoor and outdoor control. But what often doesn't get enough attention is the crossover point where outdoor problems have potential to become an indoor issue for a variety of commercial and residential properties. Technical Service Lead Joe Barile from Bayer Environmental Science provides insight on better perimeter control with these 10 tips.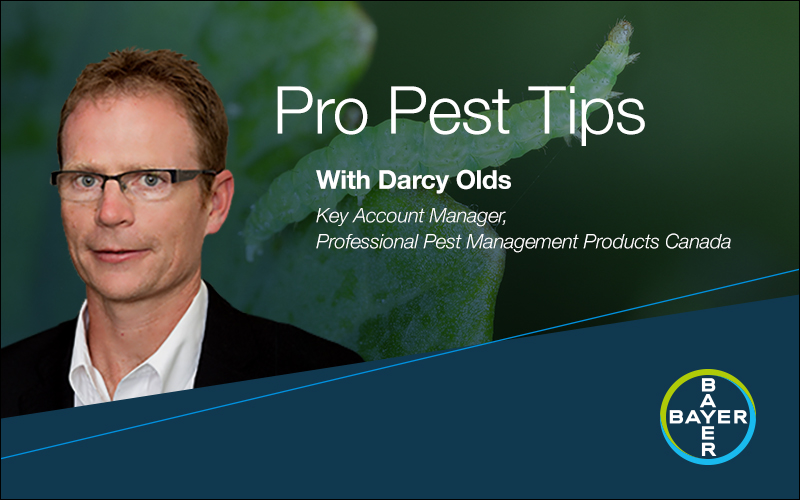 The goal of perimeter pest management seems simple enough: stop pests outside before they get into customers' homes and businesses. Many pest management professionals know that while this task sounds relatively easy, it's usually a bit more complicated than you might expect. In order to achieve success, there are a number of important precautions to take and steps to remember as part of an effective Integrated Pest Management (IPM) strategy. With these 10 tips, you can help deliver the best service for your customers and the most efficient job performance for your company.
EDUCATION – Learn how to identify the primary perimeter pest species in your area. Familiarize yourself with their biology and behavior so you can recognize the conditions that attract and support them.
PRUNING – Ornamental shrubs and trees should be regularly pruned to prevent contact with the structure and easy access for pests to move into the building. Trim branches so there is a minimum of 6 inches between the building and the foliage, which will allow air to circulate and prevent moisture buildup.
WATER MANAGEMENT – Inspect gutters, downspouts, extensions and splash blocks for proper function. Keeping water away from the building makes the perimeter less attractive to pests. Look for clogged or blocked gutters and downspouts or other conditions that encourage rainwater to collect in the perimeter zone.
ACCESS POINTS – Inspect buildings for cracks and openings, especially utility entries like water mains, gas lines, AC lines, plumbing connections, data cables and electrical. Over time, gaskets and caulking around these points can become ineffective and will need to be repaired to prevent entry.
WEEDING – Unwanted plants that are against foundations or in planting beds can provide food for honeydew-producing insects (aphids, mealybugs, scales and thrips), shelter from the sun, and flowers or pollen that will attract insects. Removal or treatment with a registered herbicide (where permitted) is recommended.
MULCH RISKS – In addition to interfering with insecticide performance, mulch beds retain moisture and create heat through natural decomposition. They are also a growth medium for fungi, small plants and bacteria that attract small insects along with larger predatory pests. When possible, mulch should be removed or relocated.
CLEANING & MAINTENANCE – Sprayers should be thoroughly cleaned on a regular basis, especially when spraying multiple formulations through the same pieces of equipment. Clean or replace filter screens regularly and follow the manufacturers' directions for proper pressure to prevent spills, leaks and drift.
FOLLOW COVERAGE DIRECTIONS – For example, when applying treatment to broad outside surface expanses, uniformly spray to a height of 0.5 to 1m and apply enough dilution for adequate coverage without dripping or run-off. Apply to exterior surfaces, cracks, crevices or expansion joints of labelled structures where listed pests may enter the structure
LOOK HIGH AND LOW – When treating along the foundation, remember the two target areas for spraying. The area up and under the first row of siding and the sill plate of the structure is the "door" that pests often use to gain entry. Insecticide applied in this area will create a residual treatment barrier that is protected from UV exposure and weather effects. Be sure to direct attention to just above where the ground and foundation meet. This is the "bridge" that pests cross to get from the outside world into the building itself.
90-DAY REVIEW GOALS – Think about what is going to happen at the next service interval. Your goal is to provide protection from one visit to the next, so it's worth thinking about how product choices can help extend your service without having to return for a costly callback
Bayer Solutions
Choosing the right product is crucial for lasting perimeter control. For example, Temprid™ SC (which uses both a fast-acting beta-cyfluthrin pyrethroid and a long-lasting imidacloprid neonicotinoid) provides a high level of control and extended residual effects for reduced callbacks between visits. If ants are the main concern, consider supplementing your program with Maxforce® Quantum ant bait. This product remains effective for up to three months, which is perfect for quarterly schedules.
Perimeter pest management is a dynamic problem, so multiple approaches and adaptive strategies are always a good idea. A combination of client education, effective non-chemical control and a variety of treatment (baits, sprays and dusts, and product rotation) can keep your customers satisfied from season to season no matter how hard pests try to get in.
For more information about perimeter control, Integrated Pest Management, Temprid SC, Maxforce Quantum or other pest control products, contact your local Territory Sales Manager.
Where to Buy: https://www.environmentalscience.bayer.ca/pest-management/wheretobuy
ALWAYS READ AND FOLLOW PESTICIDE LABEL DIRECTIONS. Bayer, the Bayer Cross, Temprid™ SC and Maxforce® Quantum are trademarks of Bayer Group. Used under license. Bayer CropScience Inc. is a member of CropLife Canada. ©2021 Bayer Group. All rights reserved.