Esplanade® is a trusted and reliable solution that is used coast to coast for total vegetation control.
Any time you cross a major rail line in Canada and see the bareground running along either side of the tracks, there's a good chance you're seeing Esplanade at work.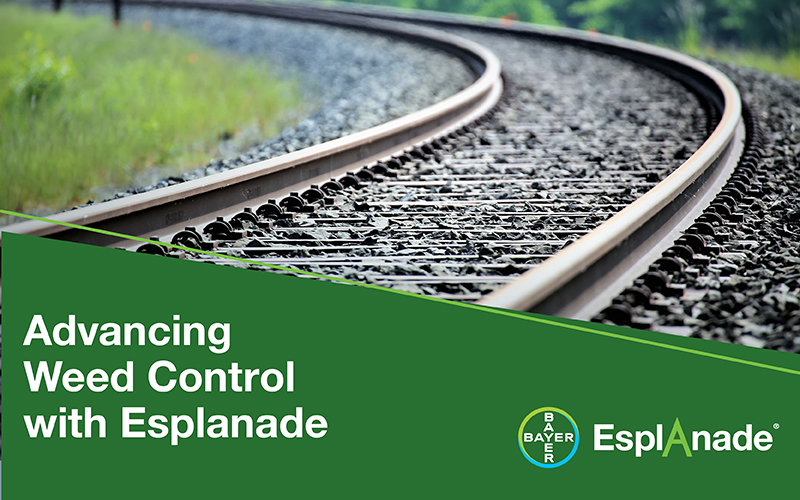 Esplanade, a pre-emergent herbicide, is used in the oil and gas industry, around pipelines and utility buildings. Municipalities use it along roadways. It's used in high- and low-rainfall environments and on the toughest weeds. If you need bareground kept vegetation free, there is no better or more proven product than Esplanade.
Operators love working with Esplanade:
Low use rates
Convenient and easy-to-use packaging
Minimal PPE requirement
No daily use limits
Solution for tough weeds
Esplanade provides superior, broad-spectrum control of over 33 weed species, including annual grasses and broadleaf weeds. A single application of Esplanade herbicide will control giant foxtail, green foxtail and yellow foxtail.
The product is sprayed directly on bareground where it creates a barrier that weed seedlings can't grow through. It works through the inhibition of cellulose biosynthesis (CB Inhibitor, which disrupts the germination process). Esplanade doesn't break down by photodegradation, and it works in both high- and low-rainfall environments. It should be tank-mixed with a product like glyphosate to control any weeds that are already poking through the surface.
Esplanade is the only Group 29 herbicide. That means it controls even resistant weeds like kochia with biotypes found resistant to Groups 2, 4 and 9. All those biotypes and others that are resistant to the modes of action in other groups, such as Russian thistle resistant to Group 2, are all controlled by Esplanade. Esplanade controls over 40 weeds.
One application per year
In most applications, operators need to apply Esplanade only once a year. The product is applied on bareground with residual activity that performs over eight months. It lies dormant under snow while the soil microorganisms that break it down are resting too. Because most regions of Canada are dormant for four months over winter, Esplanade delivers year-long control with just one application.
Low use rates
An important feature of Esplanade is the low use rate. The product is applied at 375 ml/ha. That's a significant feature since operators need to move less product to spray an area. The product has a low environmental impact too at only 75 grams of active ingredient per hectare.
The product benefits the environment and the applicator too. It's very safe to work with, and applicators are not required to wear respirators.
Resistant weeds
Managing herbicide-resistant weeds has become a significant issue in the IVM market. Kochia is one of the main weeds affecting industry, railway, oil and gas, pipeline, and other sites. It is also a weed with biotypes showing resistance to multiple groups of herbicides. Kochia resistant to Groups 2, 4 and 9 have been identified.
An important way to manage herbicide resistance is to use applications with multiple modes of action. Even if the weed survives the application from one group of chemistry, it will be controlled by the second mode of action.
Esplanade can be tank-mixed with multiple herbicides. We recommend a tank mix of Esplanade + Navius FLEX and Glyphosate for broad spectrum and total vegetation control.
Contact your territory sales manager to learn more about Esplanade and how it can fit into your unique use pattern.
AND ALWAYS READ AND FOLLOW PESTICIDE LABEL DIRECTIONS. Bayer, the Bayer Cross and Esplanade® are trademarks of Bayer Group. Used under license. Bayer CropScience Inc. is a member of CropLife Canada. ©2022 Bayer Group. All rights reserved.