Suspend® PolyZone®
Another great solution for tick control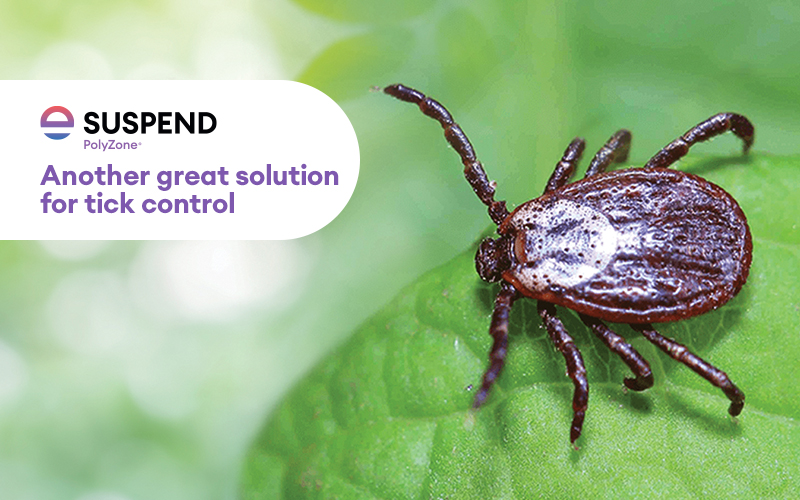 Suspend PolyZone can be used on all types of ticks including blacklegged ticks.
Suspend PolyZone contains deltamethrin, a proven active ingredient for tick control coupled with a proprietary PolyZone formulation technology that helps to resist weathering.
Treat with Suspend PolyZone in a three-metre band to turf areas around property lines or around structures such as dog houses, kennels, sidewalks, pathways or patios to help protect against ticks around the home. In addition to these areas, Suspend PolyZone can also be used to treat ticks in surrounding vegetation as well as on the exterior or interior of structures. See product label for complete details.
Application Rate: 12 mL/100 m2 Water Volume: 8 L/100 m2
The Suspend® PolyZone® controlled release formulation, which resists erosion, ensures your treatment will continue to control targeted pests for an extended period of time. It stays effective where it's sprayed even in tough conditions.
For more information about Blacklegged ticks, download the Solution Sheet or contact your local Territory Sales Manager for insect control strategies specific to your needs.
ALWAYS READ AND FOLLOW PESTICIDE LABEL DIRECTIONS. Envu, the Envu logo, and Suspend® PolyZone® are trademarks owned by Environmental Science U.S. LLC. or one of its affiliates. ©2023 Environmental Science U.S. LLC. All rights reserved.